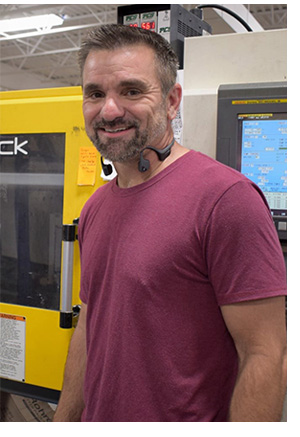 Luther H. Cifers III grew up in Central VA, about 25 miles from YakAttack. Homeschooled from the third grade, Luther is largely self-educated, though he spent a few years attending night school to attain an Associates degree in General Sciences. Realizing that the knowledge and skills he had learned pursuing his interests at work and studying independently were of more value than those learned in the institutional setting, he then refocused his efforts on growing his career by more direct means.
Luther came from a family with limited financial means, and from a young age worked whenever and wherever he could, at first on neighboring farms and later in construction. He started his career in manufacturing when he took an entry level position at a third tier automotive components supplier named Carbone of America in 1993, at 19 years old.
An intuitive and natural learner, Luther spent the first 17 years of his career growing through various roles in the companies he worked at. He spent 9 years at Carbone, and later worked at a steel products manufacturer and a software services company. During this time, he developed proficiencies in engineering, machine design, product design, custom software development, and management. He put those skills to work for himself in 2006 when he started his design services company, Cifers Solutions.
At Cifers Solutions, Luther designed various solutions, from a microwave oven chassis to a medical pump assembly station to a tow truck. Although very successful as a consulting business, Luther realized that Cifers Solutions was a difficult business to scale, since it essentially traded dollars for hours and required exceptional additional talent to grow. This realization, coupled with an interest in his new hobby, kayak fishing, led Luther to launch YakAttack in 2009, with a homemade 360 degree LED light pole to enhance kayakers' visibility, called the VISIPole. Made in a friend's basement, YakAttack sold ~$19k in VISIPoles in 2009.
For several years Luther continued to operate Cifers Solutions to support his family, while investing all available cash into YakAttack, whose annual sales grew to more than $2M by 2012. At this point, he was able to shut down Cifers Solutions and turn YakAttack into a full time endeavor.
With Luther's intuitive understanding of which products customers would buy, a knack for creating silver bullet solutions, and a natural ability to build relationships and a brand following, YakAttack quickly grew into a market leader, building a substantial IP portfolio to protect its unique designs along the way. In 2017, looking to capitalize on the reputation he and YakAttack had built in the kayak fishing industry, Luther started another company, Bonafide Kayaks, as a premium fishing kayak brand.
Successfully taking its place among industry leading premium brands in its first year, Bonafide quickly became cash and resource hungry, and keeping up with its growth took Luther's focus off of YakAttack. In 2019, a uniquely suited opportunity arose to merge Bonafide with another kayak company. Doing so allowed Luther to refocus his efforts on what had become a bloated and inefficient operation at YakAttack.
By the end of 2019, Luther had restructured YakAttack, replacing the operations management team, reducing overhead, and increasing efficiencies. Booming demand of YakAttack's industry leading LockNLoad mounting system and Omega series fishing rod holders created massive growth in 2020. Revenues increased by 49%, mostly in high margin product categories, and YakAttack operated more efficiently with a reduced but more refined overhead structure. This combination allowed YakAttack to realize record profits in 2020, and carry a lot of momentum into 2021, where Q1 sales are projected to increase around 50% over Q1 2020.
With an eye on YakAttack's rapid growth and high potential to scale (both in kayak fishing and in new verticals), and with a desire to focus his personal efforts in areas of the business that he can best serve, Luther is now seeking a strategic partner to help YakAttack realize its full potential.