The exhibition of Ukrainian children's drawings, collected by the charitable family foundation "The Cifers Foundation", received an unexpected, but very powerful sound. Now it can be seen by millions of people from different parts of the world who fly to the capital of the USA, to the Washington airport.

The exposition presents works created by children in Ukraine and those who were forced to leave their homes, fleeing from hostilities to different parts of the world. Young artists depicted their families, hometowns and villages, courageous defenders. The drawings are full of strength, love and firm belief in the victory of good over evil. And this is the message of Ukrainian children to the world.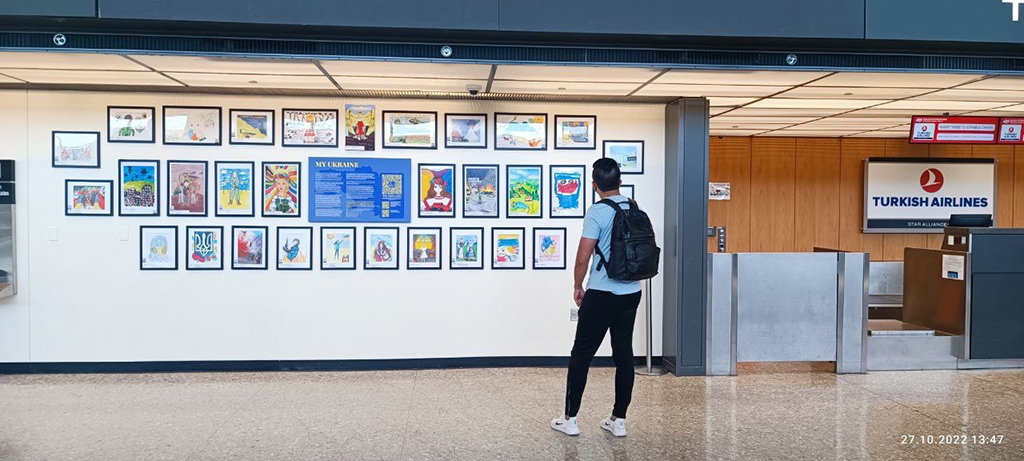 "I thought, where is the best place to talk about Ukraine, so that the whole world can hear and see? Where should the Ukrainian exhibition of children's drawings be moved so that these children's voices are heard? How to reach the hearts of those who are not so much interested in this topic? How to increase the number and quality of the target group for these masterpieces? And the decision about the airport in Washington (the capital of the USA) just sounded in my head. I was absolutely sure: I couldn't think of a better place. And I asked the First Lady of Virginia to help in this, to whom we are sincerely grateful for her help," said the co-founder of the foundation, Anastasia Cifers.

She emphasized that "millions of people every day from all countries of the world, businessmen and politicians, moreover, can view the exhibition 24 hours a day."

"Super-busy, influential people usually only have a little extra time at airports. There is time to look at creativity, read about Ukraine, read human emotional stories about survival, feel and understand our experiences," Anastasia said.

"Thank you to all the little authors of drawings. After all, at the moment of creativity, each child did not just leave the mark of a pencil on paper, but filled the world with ardent love for Ukraine, contributing to its victory - our great joint victory of good over evil!" - added the organizer of the exhibition.

We will remind that the presentation of the exhibition in the USA took place on the eve of the Independence Day of Ukraine at the Visual Arts Center of Longwood University.