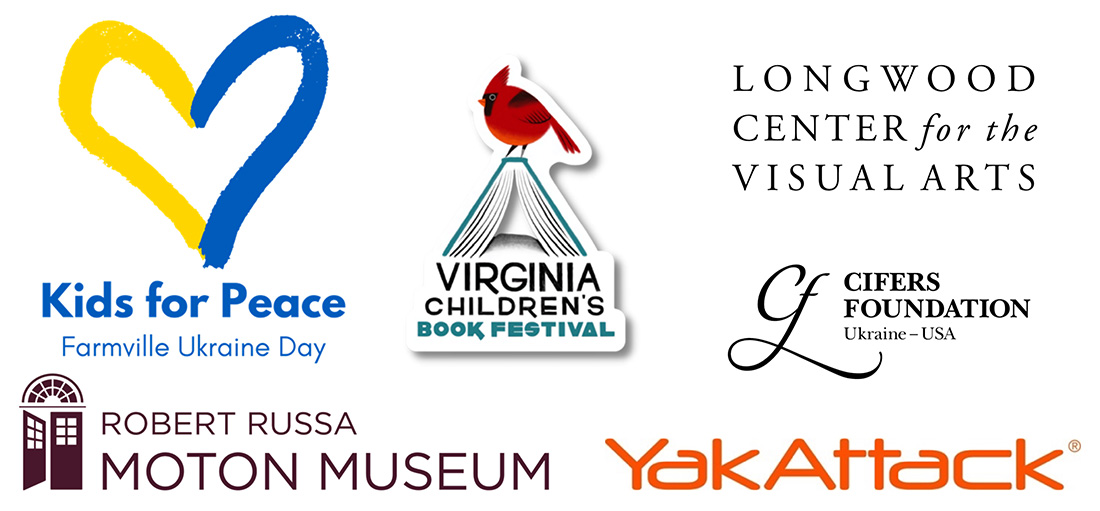 On 13th of May, 2023 in Robert Moton Museum, there was held KIDS FOR PEACE: FARMVILLE UKRAINIAN DAY 2023.  The event was organized in partnership of Virginia Children's Book Festival, The Longwood Center for the Visual Arts, Robert Russa Moton Museum, sponsored by YakAttack and The Cifers Foundation. The volunteers were Ukrainians that live now in the Farmville community.
The goal of the event was to promote international unity for peace, tolerance, and support for Ukraine and its people, who are fighting hard against the Russian aggressor. The Ukrainian Day was aimed to provide educational, cultural, and inspirational activities for kids and youth, that will introduce Ukrainian culture, food, clothes, books, etc.
The exhibition of Ukrainian books in Ukrainian and English was collected and transferred from Ukraine by our partners – "Summit Book" Publishing House. Books for children about Ukraine were purchased with the support of the Cifers Foundation.
Fuqua School provided a lot of beautiful inspirational arts to support Ukraine, that were displayed at the Ukrainian Day.
Artworks that were created by kids during Ukrainian Day will be transferred to exhibitions in the Parliament of Ukraine with the support of Ukrainian "Dream" ("Mriy") Foundation, also to Ukrainian families and defenders. A similar exhibition of artworks from Ukrainian kids was displayed in LCVA in 2022, and is currently displayed in the Dulles International Airport (Washington) from October 2022 till now.
"The war in Ukraine continues, and the world remembers it. The global risks to our children around the world are only growing, and it is our shared responsibility to maintain peace and hope for a better future for everybody. I sincerely thank the partners, as well as the amazing children from local schools who showed their support for Ukraine and the Ukrainian people through their beautiful drawings," – Anastasiia Cifers.